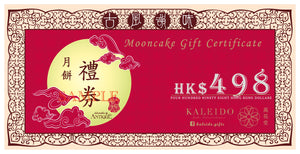 Mooncake E-Gift Certificate 月餅電子禮券
Regular price $498.00 $498.00 Sale


Worry free gifting!!!  

送禮無憂!!!
Simply purchase the e-certificate and provide sender and receiver's information. We will handle the rest for you!   Custom Value Gift Certificate upon request!!!
只需購買電子 禮券並提供發送者和接收者的資料。剩下的我們會為您處理!可提供自選價值禮券!!!
Sender's information 發件人資料: Name 姓名, WhatsApp Phone number 電話號碼
Receiver's information收貨人資料: Name 姓名, WhatsApp Phone number 電話號碼, and/or E-mail
Personal message留言: (optional)
Redemption Method:
1. QR code printed on the certificate.  Simply fill out details and choose the gift set listed on the e-form.  二維碼印在禮券上。只需在電子表格上選擇選項。
OR
2. Visit our online store.  Enter the certificate number upon check out.  The voucher amount will be deducted, any remaining balance will need to be settle to confirm with the order.  在網店結帳時輸入 禮券編號。代金券金額將被扣除,任何餘額將需要結算以確認訂單。
Terms & Conditions:
1. This certificate entitles the bearer to redeem goods up to the face value at KALEIDO.  There will be no change for any balance.
2. This certificate can only be used once.
3. This certificate is not exchangeable for cash value.
4. This certificate is valid on or before the expiry date and shall be void upon its expiry.
5. KALEIDO is not responsible for the loss or damage of this certificate.  No replacement certificate will be issued.
6. In case of dispute, KALEIDO reserves the right of final decision. 
Complimentary Service 免費服務:
<C1> MOONCAKE: Choice of mooncake flavour, if applicable 如果適用可選擇月餅味道。
<C2> MOONCAKE: Personalised mooncake; with ONE choice of a Chinese Surname or an English Monogram 可選一款個人化月餅,可選擇百家姓或英文字母。
<C3> SHIPPING: Complimentary SF shipping for all orders within Hong Kong.  Extra charge for shipping to Macau and China.  可享受順豐免費本地郵寄服務。運送到澳門和中國會有額外費用。Shipping starts on 發貨將於 2023 年 9 月 14 日開始。